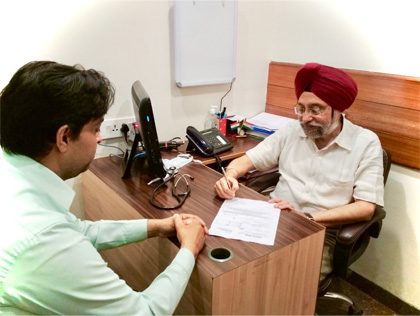 Medicos Centre is committed to excellence in the field of medical diagnostics. Founded in 1984, we are one of the oldest continuously operating medical laboratories in North India. As a result of our commitment, Medicos has grown it's client base to have significant presence in the states of Punjab, Haryana and Himachal Pradesh. We currently service patients, private physicians, group practices, union and industrial accounts & insurance companies through our laboratories, collection centres and house calls.
Medicos centre is proud of our ultra modern facility coming up in SCO 801-802 of Sector 22A located across the Chandigarh Parade ground. Built to out exacting specifications, the 10,000 square foot Laboratory and medical centre employing more than 100 skilled personnel, allows us to continue servicing our clientele with the highest level of accuracy and efficiency, offering up to date modalities to maintain out position as one of the fastest growing regional reference laboratory in India.
Medicos centre is a clinical laboratory facility with an expansive menu of testing services: Clinical, Anatomic, Pathology, Biochemistry, Immunology, and Molecular testing. We also provide diagnostic procedures such as Fine needle aspiration, Pulmonary function testing, EKG, Stress tests, Echocardiography and are in the process of adding Radiology, DEXA, and Mammography. Utilising the most advanced technologies, Medicos Centre places the need of each individual patient first. Our commitment to quality, accuracy, and efficiency makes us a respected choice for quality clinical diagnostics.